Here we are at the beginning of August and I'm asking about summer reading. A little late on the uptake, but better late than never so they say. What I've found myself thinking about recently is what makes a good summer read? What types of books do we save for this part of the year and why?
When I was a kid, summer was basically the equivalent of reading, they were almost the same word in my mind. I would bike or hitch a ride with Mom to the library about once every two weeks and pick out at least eight different titles from the YA section. It was the best thing in the world. Having that giant stack of books when I went home was so exciting that I usually couldn't even decide what I wanted to read first. And there was NO SCHOOL, meaning I could stay in bed until Mom forced me to get up as long as I wanted and just read. When I did have to get up, my commitment to books meant that I perfected the Walk n' Read. Also the Do Chores n' Read, and the Brush Your Teeth n' Read.
But now of course, summer is a lot different. Even if we find ourselves with a few weeks off (or if we're lucky a month or two), we can't just sit around and read because there are all these THINGS TO DO. These important life activities like cooking and cleaning, buying shit and keeping up with friends/family. Maybe you even have kids to take care of so that they can have their own blissful little summer of words.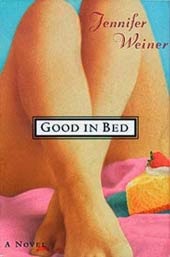 I still believe though. I still feel that summertime has some special magic quality about it that makes reading easier and more prolific. There's just something in the air (sunscreen, maybe?) that helps me put things down and just read a book for a while.
And sometimes my reading in the summer is different than what I read during the rest of the year. I'm not really much of a light fiction reader (okay, also known as chick lit), but this summer I read Good in Bed by Jennifer Weiner and actually enjoyed the adventures and hilarious mishaps of protagonist Cannie Shapiro. I'm thinking of picking up another "women's fiction" (ugh, can we get a better genre title already?) book before summer is over, particularly by an author of color, so if anyone has suggestions let me know.
Summer is also a good time to pick up those books that you've been meaning to read for a while. Kindred was one of those for me, as was IQ84 (all 1157 pages of it). There's still a few books like The Other Side of Paradise by Staceyann Chin and Infinite Jest by David Foster Wallace that I've been meaning to read for a bit and hope I'll get around to before the last rays of summer hit. All in all, it's still a slightly more relaxed pace of life for me, and I intend to make the most of it.
How is your reading different in summer?