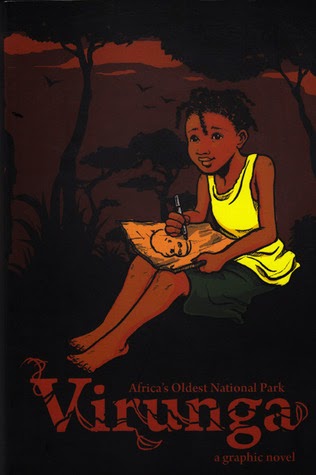 I'm going to preface my review by saying that this book was put together almost entirely by a bunch of undergraduates taking a class in college. I say that not because I'm about to give it a bad review, but because I'm actually about to give it quite a good one, and I want to acknowledge that it means a lot.
I've owned a copy of Virunga for a loooong time. I picked it up for free at the release party years ago, but, while it seemed interesting, I pretty much put it on a shelf for years until rather recently when I watched the documentary of the same title (but no affiliation) and re-remembered the graphic novel. The movie had struck me with the visual beauty and scale of the giant national park, as well as the intensity of the conflict over resources and money in the region.
The graphic novel follows a young girl named Malika who lives in a refugee camp. Her uncle makes coal from old growth trees, which is illegal, but helps keep the refugees alive by giving them much needed heat for cooking and other life needs. Malika draws gorillas and the people she encounters to help deal with the loss of contact with her parents and the daily stresses of the refugee camp.
She meets a bunch of rangers one day in the forest, rangers who are keeping tabs on a different armed rebel groups and trying to stop poaching. All of these characters rely on each other in some way in a complicated ecosystem where right and wrong are hard to decipher.
The book would have been interesting even as an ordinary novel, but the fact that it is a graphic one of course adds something extra. The illustrations lend extra personality to each of the characters and help control the pace of the story — when to pause over a dramatic moment, and when to keep reading onto the next frame.
After reading Virunga I really want to pick up another graphic novel, maybe Persepolis, which I've been meaning to get to for a while as well. Anyone else got suggestions for graphic novels that are must-reads?

5/5 STARS