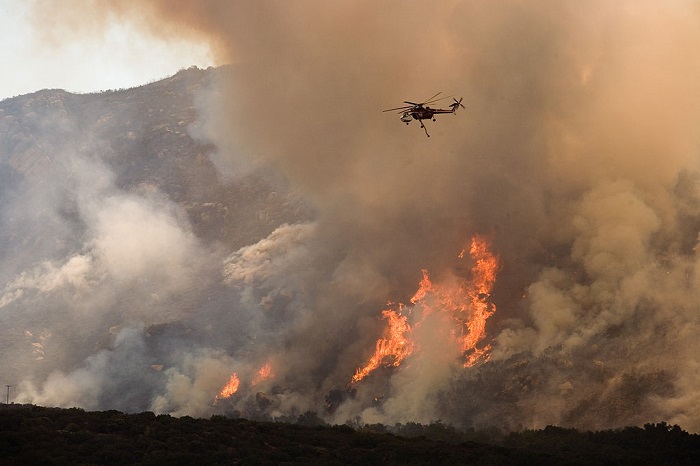 2017 was the year that climate change became real to me.
I don't mean that I didn't believe in it before. I've worked on local climate change policies. I trust the science and the scientists who have been telling us that the earth is warming. I've read my Octavia Butler. And I've been exploring fiction of my own that examines what our future environment could look like.
What changed recently was my intimacy with climate change. Last year was the first time I thought about it as something that could tangibly impact my life.
I started out feeling sympathy, but not personal concern, the October morning when I learned of wildfires in Northern California. I idly scrolled through Twitter, seeing images of bright orange flames and reading about the dry and windy weather leading to their spread.
Later, I saw a tweet that mentioned the city my grandparents live in. I started Google searching to see where the fire was expanding and realized that it was only a few miles from the neighborhood where they are.
I thought about the grassy, dry hills just behind their development, where cattle range and spindly trees perch in small clumps thirsting for water. I thought about how quickly a fire could rage and cover those miles. I thought about how dry the summer had been. I spent the next day repeatedly checking the fire perimeter, searching the name of their neighborhood on Twitter, hoping nothing bad was about to happen.
They were worried too. Though outside of the evacuation zone, they voluntarily left their house for a few days until firefighters had the border more under control. Fortunately, they had the connections and resources to temporarily relocate. And in the end, the fire never got to their area. But, there were people who lost to that fire. Homes. Livelihoods. Loved ones.
Watching and hearing about the experience from afar was surreal, and reminded me that there are limits to the ways in which we humans can protect ourselves against natural disasters once they've begun. That the earth in its backlash cannot always be contained.
In December, a round of fires hit Southern California where I live. It was the time of year when my East Coast friends started to talk about snow and cozy nights and how cold it was outside. In contrast, my social media was again filled with flames.
Geographically, these fires were much less of a threat to me than the others had been to my family. I had no real fear that I wasn't safe. But I still jumped at that emergency alert that everyone in LA County got on their phones. Maybe I'm a dramatic person, but I still spent a minute imagining what I would take if I woke in the middle of the night with an order to go.
Emergency Alert just popped up on my phone & @guthlife's. #LA peeps, please pay attention to alerts, evacuation orders & keep your phones on overnight. #LAFires 🔥 #ThanksFirstResponders @LAPDHQ @LAFD 🚨 #SafeInHighDesert pic.twitter.com/npdYAaqiqV

— Jennifer Cabe (@JennCabe) December 7, 2017
It was unsettling to see videos of people driving past smoldering hillsides on their early morning commutes, even though the LA fire itself was relatively small. The massive 405 freeway was shut down in one direction. You could see smoke billowing from the north. You could hear sirens.
I kept texting my friend who lived closer to the Thomas fire, the one that became the biggest in modern California history. He said there were people dancing in the ashes raining down and pretending it was snow. We talked about the perversely beautiful sunsets you get when the surroundings are burning down.
Now that we've finally been doused by a some much-needed rain, the areas that the fire went through have been host to deadly mudslides. The plants that held the soil together have been burned away, and not enough of the water can get absorbed.
Climate change is almost undeniably a factor in all of this. The percentage of forest that burns every year in California due to wildfires is up by 1000% compared to 1984. Seasons have been getting hotter. Drought is intensifying. And all the while, we're living under an administration that is hellbent on putting profit over the environment and our need to coexist with it.
As I said, I've long-since been someone who believed in climate change, but now I understand the urgency of it.
We are too quickly hurtling toward the point of no return.
Header image: by Andrea Booher, from the FEMA Photo Library, via Wikimedia Commons.