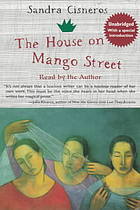 One day I'll own my own house, but I won't forget who I am or where I came from. Passing bums will ask, Can I come in? I'll offer them the attic, ask them to stay, because I know how it is to be without a house.
—From The House on Mango Street by Sandra Cisneros
The House on Mango Street is one of those books that I'm surprised to have gotten so far in life without reading. It seems like every elementary and junior high school assigns it at some point – but apparently not the classrooms I was in. Anyway, this was an interesting experience for me not just because I listened to the book on recording, but also because I listened to it in Spanish to brush up a bit. However… that also means that I might have missed some critical plot points as my brain tried to get back into the groove.
From what I understood, The House on Mango Street is both a coming-of-age story for a young girl up to the edge of her teenage years, as well as a voice for growing up on the less-than-perfect side of life. The main character, Esperanza explains how she her family is first able to buy their own house on Mango Street – a big achievement – but that at the same time the neighborhood that Mango Street sits in has a lot of poverty and strife, and is clearly a majority-minority area, with white folks as "others" to the area.
Until I looked it up I didn't catch that Sandra Cisneros herself was the one to read the audiobook. She does a good job not only of writing in the voice of a child, but capturing a young tone and character in her recording. I felt like I got to really sense how important Esperanza's family is to her, and how some of the things that happen in her neighborhood are things that she doesn't quite understand yet but clearly will later in life. I like that there is also a clear feminist streak throughout the book as Cisneros seeks to point out the differences between how Esperanza experiences the neighborhood and how the boys and men in her life navigate Mango Street and its environs.
Given that this was such a fast read (or rather fast listen – at about 2 and a half hours), I wouldn't mind going back someday and reading it in English to get more from the story. I'm glad that this book is out there for teenagers and young adults of color to access, even if it wasn't something that I got to until now.

3/5 STARS