I love getting book recommendations from other people. I love going to bookstores and picking out something new to read that I've heard a lot of positive reviews about. But some of those books are definitely longer than others, and given my sometimes-short attention span, the long books aren't usually the ones I go for first. This leads to a huge backup on in big books, which self-perpetuates because then I feel overwhelmed by how many large books I have to read!
So this post is an attempt to reorganize myself and take stock of what I've got going in the doorstop realm. Here's a look at some of the large books I still have and want to eventually take up: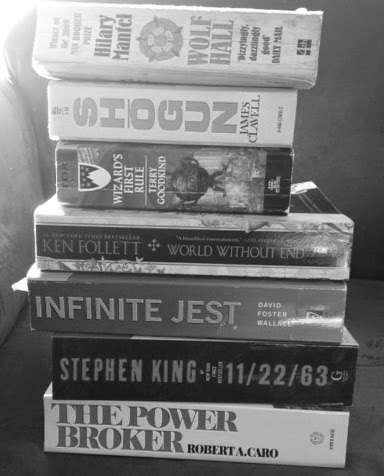 In case you can't read the titles:
Wolf Hall by Hilary Mantel
Shogun by James Clavell
Wizard's First Rule by Terry Goodkind
World Without End by Ken Follett
Infinite Jest by David Foster Wallace
11/22/63 by Stephen King
The Power Broker by Robert A. Caro
And that doesn't even include Les Mis, which I currently have on my e-reader. Physically putting the books together like that was pretty intimidating, so I quickly dispersed them again to different corners of my bookshelf. But I'm really committed to reading more of what I have at home before I buy additional books or get more books for the library, so I'd like to tackle at least one or two of these over the next few months.
I find that before tackling a large book, especially something really dense like David Foster Wallace (seriously, shouldn't that count as like two or three books?) it helps to read a couple of light novels. Since I have plenty of other small books on my shelves that shouldn't be too much of a problem. Though I still haven't decided which of the big ones I'll go for first.
What doorstop books have been sitting on your bookshelf for a while? How to you keep yourself moving through the ones you start to read?