I felt the way I often felt in this country – simultaneously conspicuous and invisible, like an oddity whom everyone noticed but chose to ignore.
–From The Book of Unknown Americans by Cristina Henríquez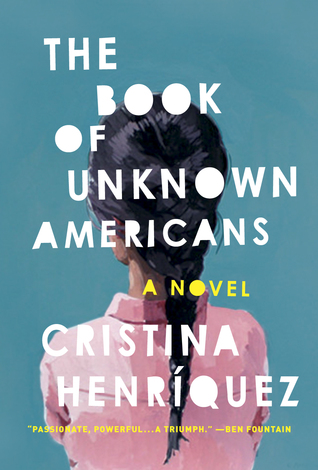 I picked up The Book of Unknown Americans thinking that maybe it would read as a familiar immigration narrative where a family moves to the U.S. for a better life, faces lots of hardship, and eventually works its way into a somewhat decent living and into the fabric of American culture. Pleasantly, Henríquez plays around with the story format I was familiar with and creates a new and complex one.
Maribel and her parents Alma and Arturo make up a Mexican family who decided to move to the U.S. when Maribel has an accident that causes her brain damage. They move to Delaware in hopes of getting Maribel into a special rehabilitative school that can help her regain some of her past personality and mental health. The story is rich with relationship dynamics of love, guilt, obligation, and trust, both within Maribel's family and among the rest of the characters.
Right off the bat I loved that this story centered on someone in a different mental state from the other characters in the book. Besides reading The Curious Incident of the Dog in the Night-Time a long time ago, I can't remember too many stories I've picked up that have mentally-variant main character.
Each chapter in the book is told by a different character in the Latino housing complex that Maribel's family moves into. Henríquez really brings out her characters and the multitude of joys and challenges in their lives through the alternating narrative format, which I enjoyed. The word "community" rises strongly to mind.
I also really liked how the book tackles the sensitive topic of "legal" vs. "illegal" immigration status, showing the real injustice of having to have one's visa sponsored by an employer in order to immigrate legally. All kind of unpleasant consequences are created by that system, even while it can provide some opportunities.
I won't give away the ending, but I have to say that was the one part of the book I was a little disappointed with. I felt that some of the complexity fell away and left me a little unsatisfied. But maybe not everyone feels that way — I'd love to hear other thoughts.
4/5 stars
See a full list of my book reviews here and my book review policy here.