My grandmother once told me a story that stretched the limits of my understandings of racial fear. Years ago she was relocating with her family for my grandfather's job. They planned to drive to their new home and considered taking a detour through the South as an add-on to their trip.
At this time however, Angela Davis had just been added to the FBI's Most Wanted list, and the entire country was focused on the story. My grandmother, who is a light-skinned black woman that used to wear her hair in an Afro, was afraid of being mistaken for Davis, particularly in the South, where they perceived greater hostility. So after some deliberation, she and my grandfather decided not to travel through the South after all, bypassing it on their journey.
Now, aside from being light-skinned, I personally don't think my grandmother looks anything like Angela Davis. When I first heard the story I had a hard time understanding what it would feel like to be alive and black during that period in time. Because of the relatively safer and calmer context I grew up in, it is almost impossible for me to fully relate to that generalized sense of racial fear. To really understand my grandmother's story, I had to imagine a completely different world from the one in which I came of age. (Though as #BlackLivesMatter shows, racial fear is still alive and well in the world. Unlike my experience, all too many young black people grow up quite aware of it.)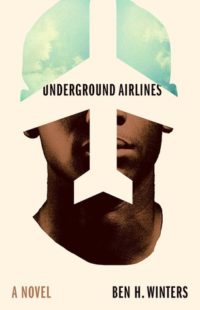 Reading Underground Airlines by Ben H. Winters reminded me of my grandmother's story because it is also about using the imagination to understand another world. It's about using the tool of speculative fiction to cultivate empathy for what it can be like as a black person living in a geography of racial fear. The particular context here is slavery.
Underground Airlines is told from the perspective of the main character, who goes by Victor. Victor lives in the modern-day U.S. with one big difference — slavery still exists in four states. He's a black man who works for the U.S. Marshall Service to help find and return escaped slaves from the slave states. As the story goes along you learn more and more about seedy things that have been going on in the background of reputable organizations on all sides. Victor has to face his own past and what he's willing to do to keep his personal freedom.
Underground Airlines, though a thriller at its core, explores deep moral questions. Winters leads you to think about what you would do to preserve your own safety in such a compromised society. The people you would betray. Those you would manipulate. Just as interesting is the exploration of corruption among modern-day abolitionists. Winters plays with what the desire to be a "savior" can do to the psyche, and how it can corrupt. He suggests that individual people can begin to matter much less than the cause as a whole. The book is a fascinating look at what happens when who we are collides with who we imagine ourselves to be.
I'd be remiss not to mention Octavia Butler's Kindred in reviewing Underground Airlines. In Kindred, a black woman is involuntarily trapped in a cycle of going back in time to the plantation where her ancestors were enslaved. The book explores the very real and painful ways in which the institution of slavery corrupts all morals and good intentions. Kindred was a groundbreaking mashup of the modern world and the old establishment of slavery, and Winters' work follows in that tradition. Constance Grady's article in Vox captures some important ways that Winters draws upon Butler's cannon.
I am white, and I wrote this book because I think it is incumbent on white people, white authors very much included, to think about racism, to grapple with racism, and to engage with it.
—Ben H. Winters

One of the great strengths of speculative fiction, is that the literal worlds it forces you to consider are often based on real world "what if" questions with current day implications. Just as the world of my grandmother's story pushed me to expand my understandings of what her life experiences encompass, speculative fiction can take you to a new mental place, to a new body. It can play with your world in subtle ways to make you consider new possibilities and perspectives. We have to leave our entrenched beliefs behind a little when reality gets slightly warped. We don't always know who we would be in the story.
—
Sign up for the Urban Bookmark monthly newsletter to get post updates, more book reviews, and links on place and justice. You can also browse the list of past book review posts and see my book review policy.

Note: I received an advance reading copy of this book from the publisher for review.
Image Source: About.com
Save
Save
Save
Save
Save
Save
Save
Save
Save
Save