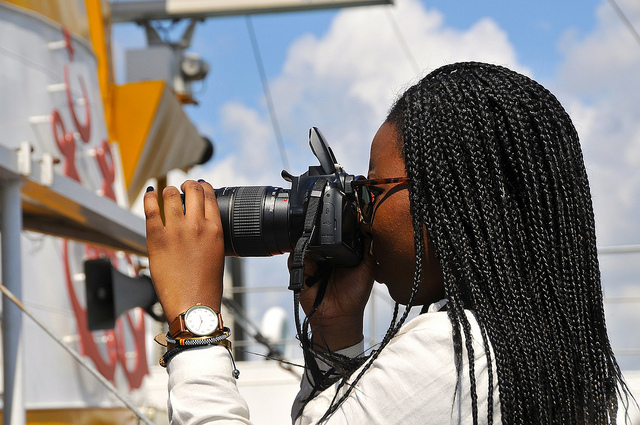 As a kid I quickly developed coping mechanisms for the racialized comments I'd hear on the playground or in the classroom — whether it was a friend telling me that my braided-in extensions felt like "Barbie hair" or other students making fun of elements of black culture, like our high school's step team.
Growing up in a predominately white community I was acutely aware of my race most of the time. I didn't know how to understand or articulate it at the time, but my experience of being black in in a mostly-white community was also layered with gender — being a black female meant that I was disempowered, objectified, and not "cool" in the sense that some of the black boys in my class were. In reflecting back now I understand some of the ways in which the black boys were stereotyped and feared by the community in a unique way, which is very important also, but different from how we black girls were perceived.
Recently, I participated in a daylong meditation and self-development experience for black women. The day was healing and powerful overall, but what struck me the most was an activity we did where we had to write down all of the identities that we hold on a daily basis. Lots of words came to mind: sister, daughter, writer, planner… My list went on.
Until the facilitator pointed it out, however, I didn't realize that I hadn't written the word "black" or "woman" on any of my cards. I was in a room full of only sistas and so for once I didn't need to hold onto either of those two identities. I couldn't remember another time in recent months, aside from time with family, where I temporarily "forgot" my blackness or my womanness in this same way. That realization alone was a strong affirmation of safe spaces and support for marginalized communities.
Further, I reflected on the role of public gaze in the city. Urban spaces are an enormous spy box — you watch people, you are watched. But some people are watched in certain ways. My experience reminded me that black women are watched differently than white women, black men, or anyone else. We might think about watching as a passive activity, but it matters. Simply walking through the world can be a traumatic experience for some groups of people — potentially complicated by gender identity, ability, age, or a number of other factors. We need to help everyone who is watched thrive in spite of the increased pressure, whether they are black women or anyone else.