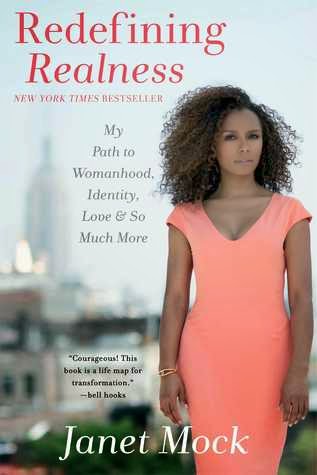 Some books are hard to write reviews for because you're afraid that what you publish won't be anywhere near persuasive enough to get others to pick up the work when you really want everyone to read it. Redefining Realness is one of those books.
Janet Mock wowed me with her ability to create a cohesive and deeply self-reflective memoir of her personal experiences with gender identity, poverty, being multiracial, experiencing sexual abuse, and so much more. When she opened her book with a disclaimer that her experience is not "the" trans experience, but "a" trans experience, I knew I was going to appreciate what she had to say. She doesn't write from a doom-and-gloom point of view, instead she is deeply unapologetic about the life she has led and the mistakes and bumps she's had along the way. Yet at the same time, she doesn't sugar-coat her life either. She is able to connect her own personal experiences to the spectrum of experiences that trans individuals may face, and identify the aspects that made her situation unique. In particular, her insights about how poverty impacts one's ability to fully realize one's gender identity were quite vivid.
In spite of the heavy issues at stake throughout the book, Mock also manages to create a story about family, connection, and love. She takes the focus away from what "parts" you have and draws you into the emotional importance of embodying your gender identity. Growing up in Hawaii, Oakland, and Dallas, Mock has unique experiences in each location related to her social fabric and her emotional welbeing. We see how important it was that Mock had a few very supportive friends and mentors in her life, particularly in Hawaii, that made her journey much easier, even while other factors of her personal circumstances created challenge.
I love that Mock punctuated the various sections of her book with words of wisdom from black literary gods such as Audre Lorde and Ralph Ellison. They help illustrate how her ethnic identity is critical and inseparable from her experiences with gender.
Beyond the weighty matters, Mock seems plain cool. Someone who you'd love to meet and who is clearly good at the work that she does. She's willing to go after what she wants and needs, and I felt personally inspired by her courage and honesty. Do yourself a favor and pick up this book to put yourself temporarily in the shoes of one very impressive woman.

5/5 STARS