Most everyone in the world of books has heard about PaperBackSwap.com by now. For those who haven't, the site is a way to trade books with others anywhere for free (well, for the cost of postage). When I first found out about the site I was ecstatic–the words FREE and BOOKS when connected have always held magical sway over my actions (for better or for worse).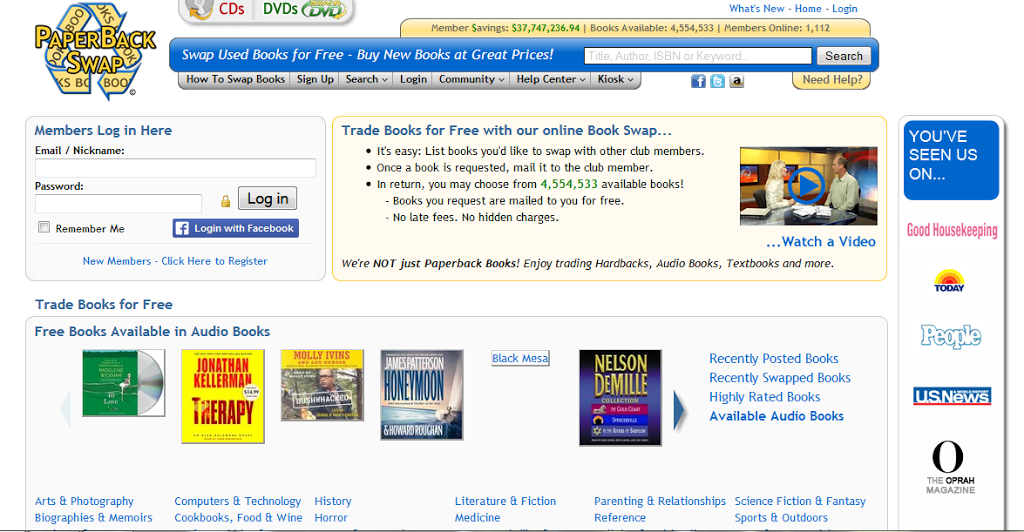 And what I've discovered since signing up is that PaperBackSwap is a pretty great site in a lot of ways. Here are my findings:
The Good
The cost. It's free to join, and it's free to receive the books that you request. You do pay the cost of shipping your books to others, which is a bit of a pay-it-forward system, and since credits are typically exchanged on a 1-1 basis, I basically consider each book you order to cost about $2-3, since that's how much I generally put into shipping one.
PaperBackSwap makes it dead easy to send a book to someone. When another user requests a book, you go through the online system which will calculate the cost of sending the book based on the weight associated with the ISBN. You can then print out a wrapper from home with the postage on it after you pay by credit card. And then you just wrap the book up with the postage showing and drop it in the mailbox. For extra protection I generally wrap my books in a manilla folder and tape it with packing tape. Here's the video I learned this technique from.
All of my books have arrived in great condition. At this point I've probably received 5-7 books from PaperBackSwap, and while some of the books look a little newer than others when they arrive, they've all looked pretty good. No highlighting or underlining, which are some of my pet peeves. (The honor code rules of the site say that you shouldn't send books with those qualities, nor those which are water-damaged, excessively worn, etc.) I like this policy, because it makes me happy to pass a book on again after I've received it from the system and read it.
The Bad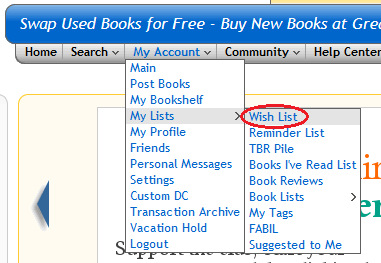 PaperBackSwap doesn't have the most terribly user-friendly interface. In fact, I almost didn't sign up when I first saw it. But I can assure you that it's well worth your while to register, since most of the links and menu items on the website are things you won't end up using anyway. The most important link is the Wish List, where you can look up the books that you've requested and how many people are ahead of you in line. When you want to add a book to your Wish List you can just use the search box to find it. And when you need to mail a book to someone, you'll get an email with a link to the page where you can get the process started.
I mentioned waiting in line… okay, this is probably the toughest part of PaperBackSwap to handle. Getting a book from the website can take a really long time, depending on a few things. First of all, you have to think about the fact that it's not Amazon, so what's available is what people are finished reading and have on their bookshelves (though you can order books immediately through a system of credits and actual money combined). Also, true to its name, most books people send are paperbacks, since shipping is cheaper on those items than hardcover books. Audiobooks are available for more credits. In my experience the books that you're most likely to get fastest are classics or books that were bestsellers but have been out for a little while. For instance, Middlesex was a book I'd been intending to read since it got popular, but I didn't get around to looking for it until I joined PaperBackSwap a year ago. The wait was very short, and I believe I received the book in a week or two. Popular books that just came out or books that not very many people have read are harder to get for obvious reasons–high demand in the former case and scarcity for the latter. Despite the wait though, you can always add books to your wishlist and forget about the site for a while. It can be somewhat fun to check your status in line periodically on the Wish List. When a book becomes available that you signed up for you'll get an email, and if you've already read the book by then you can simply say that you don't want it anymore.

Wish List item
The Ugly
Oh, let's be honest, it's almost-free books. Where would The Ugly be?
Okay, okay maybe if I had to pick one thing I might move the waiting issue to here, since for some books it can be completely unlikely that you'll ever get them in your lifetime.
Another thing that worries me a little is wondering if the site will survive in the age of e-books and e-readers? Will it become obsolete eventually? I'm not sure.
Overall, while PaperBackSwap might not be the site for you if you're trying to get a book for your book club next week, it's a great option for those ones that you'll probably get to someday. And it adds some spice and surprise to reading when a book you've forgotten about becomes suddenly available. An example is that I should be getting Bossypants in the mail soon, which I had idly picked up in a bookstore the other day before deciding I didn't need to buy it. Later that week PaperBackSwap emailed me to say the book had become available. Wish List success!
What have your experiences with PaperBackSwap been like?