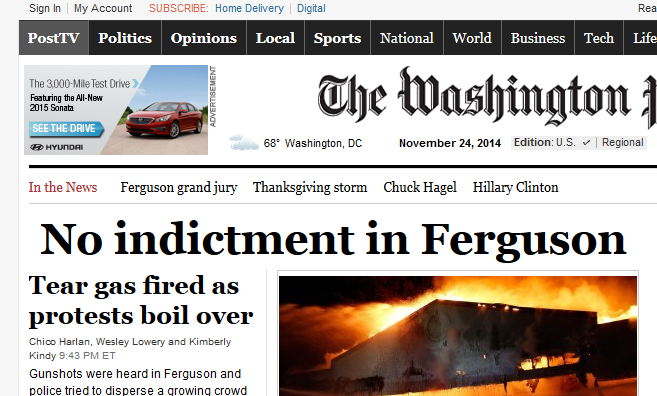 Well folks, I'm going to be honest with you, because of NaNoWriMo, I did not in fact identify any new books this month that I want to pick up to read. But the good news is, I'm still plugging away on my novel draft. (Very slowly, and somewhat surely).
What I have been thinking a lot about lately, instead of books and outside of NaNoWriMo, is Ferguson — both the grand jury and the greater epidemic of black youth being killed by cops in the U.S. I watched the coverage of the press conference of the county prosecuting attorney, McCulloch, and could tell almost as soon as he started speaking that the decision of the grand jury was not to indict.
What really happened that day with Michael Brown and Darren Wilson I may never know, but I'm truly at a loss of what to do with my emotions of frustration and sadness at the reality itself that these deaths keep happening. I'm angry at the focus on the fact that Brown stole cigarillos from a store before he died. It's not about whether he was a perfect person — none of us are — it's about the fact that he didn't get the same chance to even stay alive as a white kid has in the U.S. To even continue breathing on this earth. Everyone deserves that chance.
It's going to take me more time to process all the events. I do feel glad to have been able to march for a little while with Oakland protesters early in the evening to express some solidarity with others similarly digesting their emotions. I was happy to see several familiar faces in the crowd. And I know there are people out there doing good work to change policing practices and criminalization laws. It just feels like the need is so immediate and progress is so slow. How many other black boys and men do we have to lose before then?
If there is to be a connection back to books in this post, it's that I'm finding myself wanting to read more of the foundational writers on black identity because of racial rifts we're seeing today — James Baldwin, Richard Wright, Langston Hughes, etc. So much of what I read is contemporary, but I want to go back too and remember the roots of black literature and nonfiction. I also want to find more of their female contemporaries to read. They might not have been writing about Ferguson, but they sure would have understood how to talk about it if they were still around.