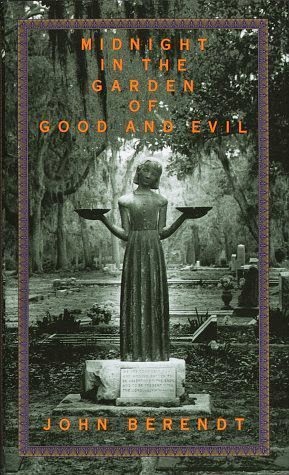 Savannah is quite a quirky place. At least that's the impression I got from reading John Berendt's work of creative nonfiction, Midnight in the Garden of Good and Evil. This one had been on my reading list (and my bookshelf) for several years, and I'd heard a bunch of great things about it, so it was high time I got down to reading.
You meet a lot of funny and interesting people through this book, including snooty high society women, a voodoo doctor, a drag queen, and an eccentric antique-collecting bachelor.
The interesting thing is that the book is sort of a combination of society intrigue and murder mystery, with a switch between the two about halfway through the work. I liked having both parts, because the character profiles alone probably wouldn't have carried the book all the way home.
The one issue I had with the book was the fact that it was pretty focused on the elite life of Savannah. While a few of the characters did have stories of poverty and missed opportunity, the majority were living in a secluded world of wealth. Not to say that doesn't make a valid topic for a book, but it did feel incomplete at certain points. In particular I really wanted to "see" the elite from a wider variety of perspectives, especially in such a black/white city.
Berendt clearly wanted to keep his own voice in the background of the story though, with only brief explanations for why he was in Savannah in the first place. He notes some of his reactions to his characters' more scandalous goings-on, but for the most part he tries to put his characters forward first.
I liked that this book built a picture of Savannah for me. Before I didn't really have anything to associate it with in my mind, because I simply didn't know very much about the city, even what it looked like or where it was located within Georgia. Now at least I have some sense of the place, and a lot of interesting stories to relate it to!
4/5 STARS