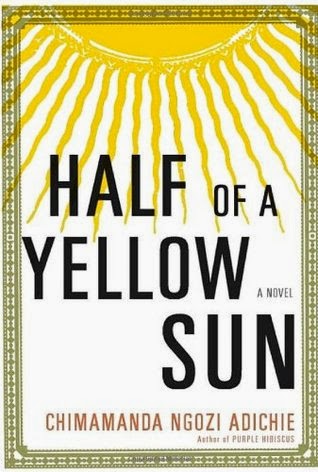 There are some things that are so unforgivable that they make other things easily forgivable.
—From Half of a Yellow Sun by Chimamanda Ngozi Adichie
The more I read of Adichie's work the more I fall in love with her prose and the type of characters she creates. In Half of a Yellow Sun, Adichie takes us to Nigeria at the beginning of a devastating civil war in which one half vies for independence from the other.
Enter three main characters (yep, not one, not two, but three) — Ugwu, a servant from a small Nigerian village; Olanna, an attractive, wealthy Nigerian woman whom he serves; and Richard, a white British expat who finds himself involved with Olanna's family.
I was sure at first that I would get incredibly confused and bored by the number of main characters Adichie brought into the book, plus a number of ancillary and important secondary protagonists. But Adichie wields her characters with ease, developing them through long sections in the beginning and then interspersing them with each other more freely as the novel progresses.
Olanna and her twin sister Kainene remind me of Ifemelu from Americanah, for those who have read other books by Adichie. But they are also subtly different, with different baggage and ambitions in life. For a work that is over 400 pages, the words really flew past, and I found myself halfway through before I realized it.
The war itself is fascinating and horrifying. I was surprised (though maybe I shouldn't have been) that I had never heard of Biafra (which fought for independence from Nigeria) or much at all really about internal conflicts between different ethnic groups in the country. It makes me remember how limited of a history education we Americans receive in grade school.
I love Adichie for fully absorbing me into another place and another time with her well-crafted work.

5/5 STARS