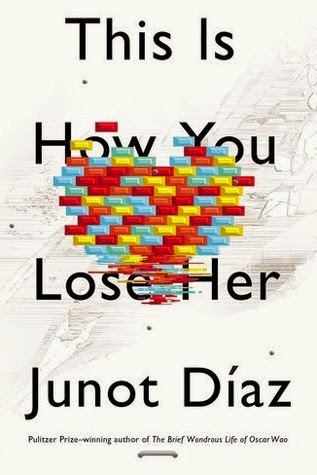 I have an embarrassingly huge literary crush on Junot Díaz. As a sometimes creative writer, I think often about his uncanny ability to blend personal truths with fiction, though my style is nothing like his spare and in-your-face first- and second-person narration.
This Is How You Lose Her is the third work that I've read of Díaz, the others being Drown and The Brief Wondrous Life of Oscar Wao (my favorite thus far). This Is How You Lose Her picks up with the character Yunior who we have seen before in his other works, as he flounders and bumps his way through relationships and family. Each story tends to jump in at a different time period, yet you can feel that they are connected by underlying threads.
I enjoy that Díaz writes about Dominican American culture, as many of the books I read by Latino authors focus on other nationalities. Díaz unpacks both stereotypes and truths through the lens of romantic relationships.
Additionally, I love Díaz's prose. There is an immediacy and freshness to his writing that makes you feel less like you are reading and more that you are listening to a conversation or a story being told aloud. It's cliché to say so, but his characters truly come to life. I read through the book in a day-and-a-half for this very reason.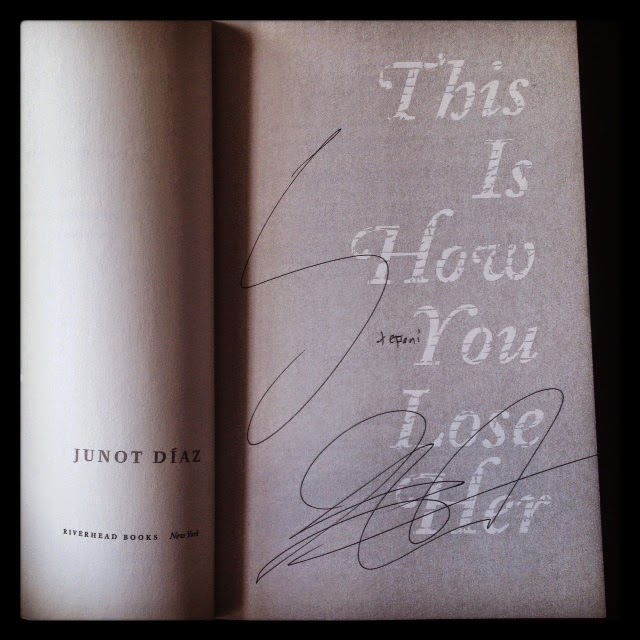 While I read this work several months ago, I'm writing a review now because a) it's great writing, and b) because I recently got to meet Díaz in person, including getting my book signed, and I'm still ridiculously excited about that. He's a remarkably personable guy for the misogynistic characters that he writes (though of course I know he himself holds different views than his characters). He also swears just as much in person as he does in his books, which was hilarious and refreshing to see.
So with all this gushing praise, why four stars and not five? Maybe because of how much I loved The Brief Wondrous Life of Oscar Wao. While This Is How You Lose Her was impressive in a lot of ways, it didn't quite draw me in as much as his former work. I missed the ways in which he wove the history of the Dominican Republic into his work in The Brief Wondrous Life, which wasn't nearly as present in This Is How You Lose Her. But this is still a strong, clear Díaz work, with all of his trademark signatures and plenty of wondrous, heartbreaking stories to be explored.
 4/5 STARS