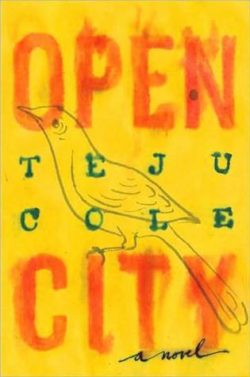 I couldn't remember what life was like before I started walking.
—Teju Cole, Open City
I read Teju Cole's Open City while traveling through India. It was a bizarre yet wonderful experience, because Cole's book starts off all about New York City, which is strikingly different from the environment I found myself in at the time. But it's also a book about exploration and connection. The magic of Open City is not in what happens, but rather in how the main character experiences life. And those fictional wanderings called up memories of my own experiences walking without a clear destination.
Open City follows a Nigerian American doctor who is in the midst of his residency at a Manhattan hospital. The doctor finds himself with lots of unstructured time in his odd periods of respite from his demanding work schedule, and so he walks. He walks all throughout NYC, and eventually his wanderings take him to Brussels and beyond. He encounters all manner of people —rich, poor, white, of color, young, old. And throughout his adventuring he maintains a persistent and alluring internal monologue that shows an uncanny self-awareness and depth of mind.
Back while I lived in Washington, DC, a close friend of mine was located in NYC. So, when I had free weekends, I would sometimes take a bus up to the Big Apple to hang out. I had a great experience in DC — it's an interesting city and it fit my lifestyle at that point. But New York was even more intriguing to me, because it isn't just interesting, it's an endlessly interesting place.
One of the first times I visited NYC my friend had to work all day. I wanted to see what the city had to offer, so in the morning I left the apartment and took the subway from Queens to Columbia University in north Manhattan. I admired the campus for a little while and then wandered to a deli and then a park nearby to eat lunch. From there, I figured I might as well see some of Harlem and so I wandered over to 5th Avenue and started to make my way down alongside Central Park. And after that for lack of much else to do, I simply… kept walking.
Columbia's manicured haven had opened into the grittier streets of Harlem, where I experienced the feeling of being both at home and on edge at the same time. I saw Central Park change, as I walked from its more vacant end toward museums, the ritzy area, and then the hubbub of the central city. I ended up at Wall Street and the former site of the World Trade Center, absorbing that end-of-the city feeling as evening blew across the water and into the grid of streets.
I'll never forget the tender sense of accomplishment I had at the end of that day. It was just like the closing of a book, the sense that I had fully opened myself up to the city and what it had to offer. I had seen so much, felt so much, encountered so many different people and blocks in one day. I may never experience New York in that same way again — it was a lot of walking after all — but I'm grateful for the memory.
I have some confusion about Cole's choices for the very ending of Open City that I can't really get into without spoiling. But otherwise, the writing is truly graceful, and I'm glad Cole reminded me what it feels like to give in to the beautiful sensation that is wanderlust.