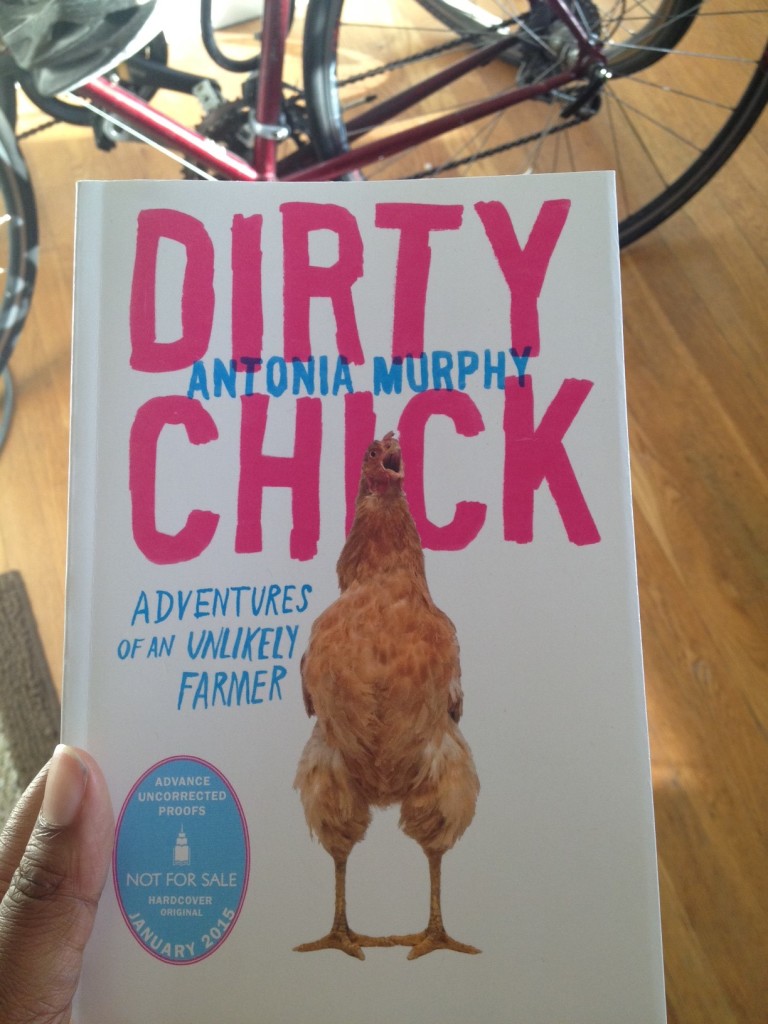 I have a free ARC to review! It came in the mail this week. It's called Dirty Chick: Adventures of an Unlikely Farmer, and it's a memoir about a San Francisco woman who moves to New Zealand to till the land. The back cover promises some funny moments, as I can only imagine this type of story would entail. I'm looking forward to reading about a fellow Bay Area lady and getting a peek into the mysterious world of farming. Check back in late January for the review.
In other news, I finished NaNoWriMo this year! I'm particularly proud of myself for rounding the 50,000 word mark given that I had sort of decided to give up around 2pm on Sunday. Thank goodness November ended on a weekend this year, because no sooner had I wasted a few hours on the Internet when I realized I actually did want to keep pushing toward the finish line, which was still about 11,000 words away at that point. What ensued was the most typing I've ever done in one sitting.
I attempted NaNoWriMo two years ago and made it halfway through, so it meant a lot to me to reach the end this time — even though the novel I came out of the process with will need lots and lots of revision to be anything close to polished. It was also helpful and fun to have kept a NaNoWriMo "journal" of sorts documenting the process. Here are a couple choice excerpts:
Day 0 (October 31)
Omgee, I'm going to write so much this month, it's going to be awesome! I can't wait to be working on my novel each morning (ostensibly that's when I'll make time to write) and to get to the end. I'm definitely reaching the end this year. And somehow I'm also going to keep up with my blog – eight posts in a month can't be too bad, right?
Day 1
Alright, whose fun idea was it to plan NaNoWriMo to start the day after Halloween? Screen is so bright, too bright, do I really have to start back on this stupid novel again? Maybe I ditched it for a reason. But maybe I can do this, yeah, the story is all coming back to me now, just a little rusty…
Day 2
As long as I set aside about an hour of each day, I should be able to finish this thing in no time. I'm already not sure if I'll like the story that I come out with in the end (so many boring scenes, too much obvious dialogue), but hey I'll have something to work with and edit. Jesus, 1,667 a day is a lot of words though.
Day 7
So much fog this morning, is it a NaNoWriMo omen? Is it good or bad? Most importantly, should I write it into my novel?
Day 16
At a conference. Goodness, it's hard to keep up with this writing. I think I'm now officially about three days behind, trying to finish my word count for today so that doesn't turn into four days. Just keep swimming, just keep swimming…
Day 25
I'm starting to really believe this is doable, given how far I've come. I mean, no doubt there will be a lot of writing to make up on the last day, but I have the day set aside for myself. I think I can pull it off.
Day 27
Behind, ahhh! Thanksgiving, ahhhh! Can I really do this?
Day 28
Okay, I've got to bring it now if I want to finish on time. Three days left!
Day 29
OMG, two days! *furiously punches on keyboard*
Day 30

That's it, I'm done, I can't do it.
Wait… Bring it.
(11:00pm PST)