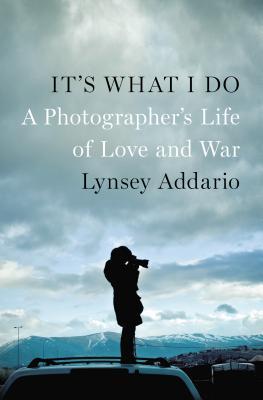 I'm not sure I can say that my life has ever legitimately been in danger — much less that I know what I would do if kidnapped in the everyday process of doing my work. But these are some of the things that Addario talks about in her memoir It's What I Do: A Photographer's Life of Love and War.
What is perhaps most compelling about Addario's memoir is her relentless pursuit of her passion: visually documenting some of the world's most intense conflicts and humanitarian crises. We see what it takes to rise to the top in the cutthroat environment of aspiring photojournalists, especially in her early career.
Through her memoir she tells the story of being a woman in the battlefield, often — but not always — seen as a neutral party, yet still very much facing different challenges than her male colleagues. She recounts being sexually harassed while shooting, being denied access to certain meetings, and having difficulty holding down most of her romantic relationships. Yet, we also learn about some of the ways gender has helped her, by allowing her access to women-only spaces in the Middle East, for example. Addario skillfully examines these challenges and opportunities and takes them in stride.
I was happy to have Addario's thoughtful commentary throughout the book. I'd always wondered for example, whether photographers felt self-conscious or guilty about taking pictures of malnourished, dying children to display to the rest of the world. I learned that for Addario the answer is yes. Yet that she always asks for permission before shooting a subject, and that her end goal really is to help the rest of the world understand the tragedies that some people are living through. Hearing about Addario's human response to suffering made me realize how emotionally complicated a photojournalist's job can be.
Reading It's What I Do can't help but stir up some desire to travel and explore for the reader, which is a valuable gift. The book shows not just the sacrifices, but what you gain by being true to yourself and your deepest search for meaning. To know from the beginning that Addario ends up with a happy family life in addition to her work is encouraging for women like myself who aspire to having a full career and a full life outside of work. I'm glad to have had a taste of adventure through picking up this memoir.

5/5 STARS
Disclaimer: I received a free review copy of this book from the publisher.