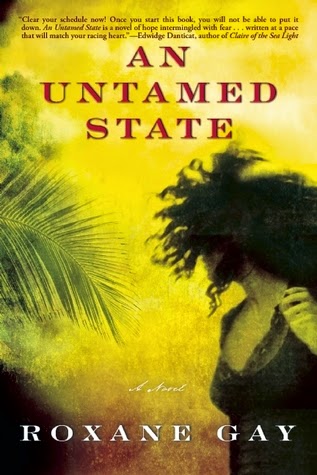 In An Untamed State, a Haitian-American woman named Mireille is kidnapped on a visit to the country of her heritage and held for ransom. Her father refuses to pay the ransom and as a result she is subject to all manner of atrocious cruelties. When she is finally set free, she must figure out how to find her way back to herself.
Almost as soon as I started reading An Untamed State I wanted to know if Roxane Gay was writing from fact of fiction. And while I may never know the full answer to that question, there is definitely some fact involved. Gay was gang raped at a young age, and I can't but imagine how creating this book must have been both incredibly challenging and incredibly necessary for catharsis.
I am almost unsure how to review this book. I can't quite say that I liked it, given the terrible situations and subject matter that surrounds Mireille. But at the same time, I'm am glad that I read it. The book is about not just the terrible things, but also how to come back from tragedy and trauma in an ever-uncertain world. Mireille is not someone who gives in to life easily, and she strays from the typical "damsel in distress" female protagonist.
One interesting aspect of the book was the way it was able to engage in a class, race, and gender conversation. Mireille and her husband are deeply in love, but at times their different cultures divide them. Mireille loved the Haiti of her childhood, but she also knows that it was coated in privilege and the necessity of keeping others out. Mireille's gender makes her vulnerable to men in a way she will never be able to completely control. Gay explores all of these tensions with compelling, clear prose.
I also love the cover on this work. The image of an attractive woman looking backward while running away from something that you can't see captures the essence of what the book is about. I'd love to know how others felt about reading this work, particularly women. I will definitely be reading Gay's other book out, Bad Feminist.
4/5 STARS